Dolly Parton, an American singer and actress, in an interview, said she is not a natural beauty and if she's going to have any looks at all, she has to create them. We all apply makeup depending on the look we desire to achieve from light to full coverage finish. We wear makeup to our weddings, and offices, and hang out with friends, literally everywhere. If makeup is applied correctly it can take your look from normal to casual, sexy, classy, or whatever you want to be. You can create how you wish to look!
Makeup can help boost your confidence. It can add uniqueness and individuality to your beauty.
Just like Tyra Banks once said, "I love the confidence makeup gives me".It makes you feel put together and ready to start your day. It gives you this self-assurance.
Basic steps to applying makeup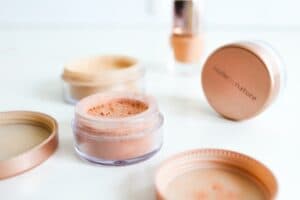 Most beginners go into beauty stores to buy makeup products with little or no knowledge of what or which products to buy. As a beginner, it's ok to be confused and less knowledgeable about these things. Here is a step-by-step guide to applying basic makeup:
Moisturize your face.
Apply a primer that suits your skin type.
Take an amount of foundation depending on the result you would like to achieve. Apply and blend evenly all over your face using a makeup sponge or foundation brush.
Apply concealer below your eyes to brighten up your under-eye area. Apply concealer also, on places you would like to highlight.
Now, with the help of a powder brush, apply loose powder under your eyes and the rest of your face to set the makeup. Wait for about 5-10 mins to bake. Blend properly.
Contour and define your face with a warm bronzer and apply any desired shade of blush to lift and add colour to your complexion.
Brush your eyebrows upward and fill in the gaps with the nearest colour of eyebrow pencil that matches your eyebrow hair and finish it with eyebrow mascara
Now, define the eyebrow arch with a little bit of skin-matching concealer and blend well.
Apply any soft desired colour on the socket of your eyelids and blend outwards to the edges of your eyes adding a bit of darker shade of colour on the outer corner of the eyes.
Apply mascara, which can be multiple coats depending on the look you like to achieve. Line your eyes using eyeliner.
Apply a highlighter to the centre and high points of your face.
Line your lips with a matching shade of lipstick. Top it up with lipgloss if needed.
Finish and seal your makeup with a setting spray.
Frequently asked questions on makeup
As you begin your makeup journey, a lot of questions would pop up and you might experience a little bit of confusion as you practise. Below are some of the questions frequently asked by beginners.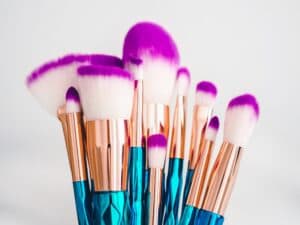 Why do we wear makeup?
Most people wear makeup to enhance their appearance and look good. Some do so to cover up blemishes or scars on their faces.
Can I wear makeup every day?
Yes, Makeup can be worn every day as long as you take good care of your skin and use quality skin care products specific to your skin type and needs.
How can I wash off my makeup?
You can always start by removing your makeup with gentle makeup remover, followed by a suitable face wash. It is advisable to follow a double cleansing method to help get all the makeup residues out.
How can I wash makeup brushes and sponges?
There are good brush cleansers available in the market, you can use to clean and disinfect your makeup brushes and sponges. This will help keep them in a good condition for a long time.
How do I know the right foundation for my face?
The best and easiest way to do that is to do a patch test. Rub a little patch of the foundation you want to buy on your jawline or neck. If it matches and blends with your jawline or neck skin tone, then you are good to go.
What is baking?
Baking is a technique that is used to set concealer or makeup for longer hours, and it's mostly suggested for oily to combination skin.
Foundation vs concealer
A Foundation is used to unify the skin tone and give a healthier complexion look, while concealer is used to cover and brighten up dull areas of the face to give a glowing effect. For blemishes, spots and dark under-eye correction. Colour corrector can be used to neutralize and optically correct discolouration to achieve even skin tone.
Highlighter vs contour
A highlighter is used to make your facial features more prominent. It's usually applied on areas on the face where light hits. Contour is mainly for sculpting. It gives definition and shape to the face.
Can I skip the use of moisturizers?
Some people do but it shouldn't be so. Moisturizers help to keep your face hydrated beneath all that makeup. It's like a skin prep before you put your makeup on.
Basic rules in makeup
Just like in every sport or game, there are also rules guiding makeup application.
There are basic rules to be followed for the safety of your skin and to achieve a great look. They include:
Always take your time to blend the makeup products properly. Proper blending is the key to perfect makeup.
Don't apply makeup to a dirty face. Ensure your face is properly cleansed and prepared before you do your makeup.
Don't use dirty makeup brushes or sponges as they can lead to skin rashes and infections.
Don't sleep with makeup on. It does not only mess up your pillowcases and bedspread but also causes severe damage to your skin. (You don't want that, trust me.)
On-demand makeup services in Dubai
Gigi Hadid, a supermodel once said, "I love Dubai, you can do everything there."
Yes, she is so right. Dubai is known for its exquisiteness and comfort. You can get all you want in Dubai.
Are you in Dubai? Do you have any problems with doing your makeup?
Here in Dubai, we give on-demand makeup services. This means you can have your makeup done for you in the comfort of your home, office, or anywhere! Isn't that great?
Do you have an upcoming event, wedding, birthday party or even a date? We can give you different looks ranging from no-makeup makeup to smoky makeup. Check out our website "here" and contact us to help you look your best.
Conclusion:
Makeup is not just a means to look beautiful, it's a confidence booster and a woman's best friend. It brings head-turning compliments and makes you feel like you have the whole world under your feet. Yes, good makeup does that for you. Makeup also helps you hide scars and other blemishes but it's all temporary so it's necessary to take good care of the skin beneath it. Always remember to eat healthily, drink lots of water and maintain a good skincare routine.