A full body wax might seem a little misleading, as if the entire body is covered in wax…that's not actually the case.
Instead, full body waxing can include either a bikini or Brazilian wax, arms and/or legs waxing, upper lip and eyebrow, stomach, and back.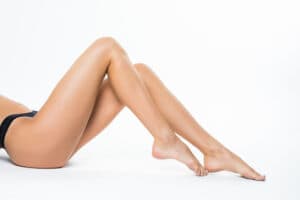 Of course, our Nooora Beauty Concierge pros offer full-body waxes to meet their clients' individual needs; feel free to pick and choose the essential spots that meet your needs.
Nooora Beauty Concierge—for the Dubai's best body waxing—is where you don't need to worry about driving home! Why? Because for our services, we always come to you.
Why a Full Body Waxing is Essential?
Ladies think a full body waxing is essential. Full body waxing translates to delightfully essential smoothness lasting five- to six-fold longer than shaving. That's because hair is gently removed at the root. Along with the hair, body waxing simultaneously exfoliates by removing dead skin.
Perfection! Perhaps it's time to book at home full body wax.
How to Prepare for a Full Body Waxing?
You're nearly ready for that quick but long-lasting full body wax. While dreaming of smoothness all-round, you have:
let the hair grow ¼ inch (not too long, not too short) because waxing pulls short hairs best
exfoliated (sloughed away) dead skin cells with a gentle body scrub with 'just warm' water the day before and applied a gentle moisturizer.
The day arrives, and you're excited:
take a quick lukewarm shower 1-2 hours prior to your appointment. This opens pores, cleans away sweat, and improves hygiene—to prevent inflammation/infection
dress comfortably
no need to drive – we bring our services to you!
What to Expect When Having a Full Body Wax?
Body waxing is an essential part of our business, and we take our business to provide luxurious salon services for you very seriously. You will find that a full body wax produces luxuriously smooth skin that's long-lasting—up to six weeks.
Expect your Nooora's aesthetician to use hard and soft wax, depending on the body parts you desire waxed.
Relax, and don't be surprised to see a few spots of blood, a normal reaction from the process of waxing. Because you've cleaned your skin a final time prior to waxing, you reduce the possibility of inflammation/infection.
Here are some frequently asked questions about full body waxing.
Q. What types of waxes do you use?
You can feel at ease that Nooora professionals work with only the best products and techniques available to meet your unique waxing needs. Nooora uses hard and soft waxes for different body parts. Rest assured, our products promote efficiency and target all skin types. Feel free to ask questions when you book your concierge appointment.
Q. Why can't I just wax at home?
You certainly can wax at home. We did see that people who tried home waxing during the COVID pandemic did relate some 'hair-raising'  experiences through social media. Sure, your best friend might swear by home waxing, but there's too many variables. Leave it to the professionals. And remember, we travel to you!
Q. Your concierge service is utmost in convenience and professionalism. I wonder, though, how do you maintain such high quality of services?
We at Nooora stand by our high quality staff, and we maintain our quality services by virtue of frequent quality checks that we carry out as
unannounced visits
follow-up phone calls to clients
random checks on trolleys used by therapists.
Q. Is body waxing suitable for all? 
Full body waxing isn't suitable for all ages nor all bodies, such as youth under 13, those who have skin vulnerabilities, or people with special needs. We recommend a first time wax session be short and focused. This enables you to sample the service.
Clients benefit from trying a target area first, from which they develop professional waxing experiences to build upon. Waxing, like wine, gets better with time.