Brows are essential parts of the woman's face; hence, greater attention is placed on them by women. Brow lamination is essential for restructuring the brow hair, giving it a perfect shape and flawless styling. It gives you fuller eyebrows, good looks, and soft brows.
Customers used to microblading, and other brow care methods might find brow lamination a little foreign. However, this article will take you through all you need to know about brow lamination.
What is brow lamination?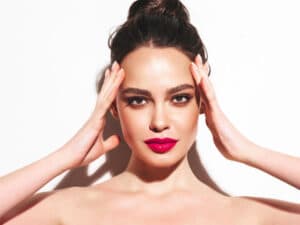 Imagine that you have perfectly shaped brows that stay that way for weeks. That's what brow lamination does to your brows' hair. Brow lamination uses a chemical treatment method to remove curly or kinky hair from your brows by giving lifted & smooth, straight texture to your eyebrow hair. Brow lamination is also compared with lash perming because they use similar products for both treatments.
Once the solution meets the hair in an accurate interval, it allows your brows to be easily repositioned, carved, and lifted into your desired shape and size.
Cost of Brow Lamination
The price for brow lamination depends on where you go. Here in Dubai, brow lamination costs between AED 190 – AED 260. With this price comes brows shaping, waxing, and tweezing. However, some places may charge more or less, depending on the extra attraction that comes with it. Remember that the process involves chemical solutions, so you should ensure that whatever price you pay covers the required safety measures and at Nooora; you are well covered.
Process of Brow Lamination
The brow lamination process only takes about thirty minutes. Once your brows area is smoothly cleaned to make them free from bacteria, oil, and dirt next is the relaxation treatment application. The relaxer treatment helps soften the hair and creates the keratin that holds the protein hair together. For faster hair relaxation, plastic wrap is placed over both brows. However, before the relaxer is applied, you should tell your beauty tech if you have allergies, skin, or eye conditions.
The relaxer on the brows may be left for about 5-10 minutes, depending on how thick your brows are or how active the treatment is. When the brows are relaxed, the setting cream is applied to remove the treatment and put the hair into a new shape, smoothen it, and give it the keratin chains. Once the hair is in position, tweezers are used for any stubborn hair. After this, you are good to go.
What makes Brow Lamination different from Microblading
Both microblading and brow lamentation are procedures done to give the brows fuller and smoother hair. However, while brow lamination uses solutions and treatments to straighten the hair into a fuller version, microblading uses needles to create minor cuts into the skin of the brow, and pigments are inserted into the cut skin.  However, while brow lamination lasts for about 6 – 8 weeks, microblading lasts up to 12 – 18 months, and re-touch is needed once the are healed.
Side Effects of Brow Lamination
Brow Lamination is not without a slight unsettling. The chemicals used in the processing could cause some reaction if it enters your eyes. It is also crucial that your brows are laminated by professionals only and you can be rest assured that at Nooora, all our staffs are trained professionals.
A side effect of brow lamination is skin reaction. Hence, if you have a high chance of reacting to strange materials, it is recommended to do a patch test before proceeding to brow lamination.
Also, you could have dry, scattered, crispy, and unsettled eyebrows if the brows are over-processed or done by a non-professional. It is then advisable that brows lamination be done at an interval to ensure that your brows are in safe hands.
Lastly, before treatment, ensure you know which solution they are about to use on your brows and what potential reaction it could give.
How long does Brow Lamination Last
While you reminisce on the beauty, ease, and smoothness of your brows after brow lamination, you can also rest knowing that your lamination can last up to six to eight weeks.
However, even when the brow's lamination has expired, you won't find your eyebrows falling all over the place. Instead, the hair will begin to look like it was never laminated.
Conclusion
Brow lamination takes a few minutes to get done. Most importantly, when you don't feel like putting on some make-up, you can rely on your brow lamination to give you an all-natural beauty. However, while brow lamination only lasts a few weeks, you can always renew them as soon as they wear out.